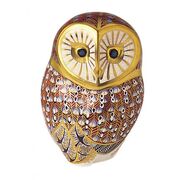 The Robotic Owl is a disguised paperweight created by the Chat Empire.
History
The Robotic Owl was a device obtained by a member of the resistance, and then the crewman eventually gained a sentimental attachment to it. It was brought to the Gamma Base complex on Yoth, where it remained in a war room for one the general's of The Resistance. While the members of the Resistance talked over their plans against the Chat, their location, and their current armaments, the device listened to their discussions. Eventually the Team discovered the device, shot it to bits, and burned it to shreds, but it was too late by this point.  
Use
The device had sent major information about the Resistance to the Chat, and a massive fleet was assembled to deal with Gamma Base leading to the Fall of Yoth.