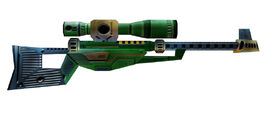 Used by Fox McCloud, the Demon Sniper Rifle serves as a long ranged energy based incineration rifle, and a precursor to the Demon-class weapons. 
Characteristics and History
The Demon Class sniper rifle is a rather compact, but incredibly powerful weapon used briefly as a prototype by the Cornerian Army. By the time of the Galactic Chat War the rifle was somewhat commonly used by the elite forces of the Army (e.g. Star Fox). A few of these special weapons survived the slip-space rift incident and still are carried alongside Fox. While it has impressive stopping power, the shorter barrel means it lacks the range of other rifles. 
Pros
Accurate.
Lightweight.
Fires shards of light, which cause burns and melt armor.
Built in scope.
Very high mobility due to small size.
Cons
Shorter range than most snipers due to short barrel.
Not very durable.
Less effective against energy shielding.
Low stopping power due to firing beams of light.
No rails for accessories.
Trivia
Fox's teammates have mistaken the rifle for firing projectiles instead of beams of light.
The rifle is commonly mistaken as being a 'Devil Sniper Rifle', while the rifles counterpart Devil Launcher uses that name.
DMR used this rifle to kill General Scars during the Saurian Ceti IV crisis.