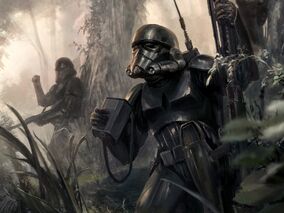 The Chat Shock Troopers are Chat Empire soldiers, commonly leading units into battle. Their role is to serve as elite 'smasher' units that focus on eliminating as many enemies as possible in a brief period of time. 
Characteristics
An "All Volunteer Division" of the Chat Armed Forces, these troops spend extra four years training before seeing combat. About 75% of cadets who tryout for the Shock Troopers end up dropping out in the first three months of training. Well trained, deadly, and experts in stealth, enemies who are lucky enough to see these guys are most likely already dead. Using the best weapons, tactics, and equipment the Chat has to offer, these soldiers cannot be taken lightly. They are known for rushing the enemy, using working closely with Rangers on missions. Besides Chat Bodyguards and members of the 5th Legion, Shock troopers are some of the Chat's most elite soldiers.
Typical Armaments
DC-51
Ban Cannon
Omni-Slicer
Notable Conflicts
Bombing of the Chat super-carrier
Attack on the Scouting Fleet of Generous Distribution
Battle of Marv
The Sector Q campaign
Gallery
Community content is available under
CC-BY-SA
unless otherwise noted.