The
Battle of Sargasso Space Zone
was an attempt by the
Resistance
to intercept a
Chat
Administrator
using the
Sixth Fleet of Trolling
to move through the
Sargasso Space Zone
. 
History
Little is known about the fleet before it's destruction, but it was transporting the Administrator Forerunner through the Sargasso Space Zone during the time of a raid on the fleet by Team Heretic Dinofox. The fleet was currently boasting an Infinity Class-Supercarrier with a supermassive escort of Ban-Hammer class Star Destroyer and Cruisers. The fleet came under attack by the Team; DMR and STARS went inside the ship to search for Forerunner while Fox stayed behind to ward off a stealth gunboat squadron harassing the Great Fox III. After finding Hatsune Miku, DMR was badly injured in a duel. He then proceeded to find Forerunner while STARS helped take down surrounding Chat Troopers. Once he found Forerunner, he got back to the ship. The supercarrier was sabotaged and exploded, and minutes after THDF left the ship, it exploded. Many of the surrounding Chat vessels were vaporized from the explosion, but many still survived, and attempted to give an all out blow to the Great Fox III.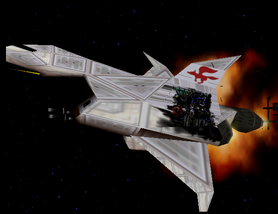 The Great Fox III's defenses proved superior to whatever was left of the fleet, and the fleet was driven back. Then a Lieutenant of Unnamed Field Marshall, callsign This War is Ours, made an SOS signal from a fleeing Banhammer Cruiser, extending the Team's time in the fleet. They used shuttles and star-fighters to proceed into the ship, but before then, another stealth gunboat squadron appeared. Fox eliminated the threat by that time DMR had already found TWIO. Fox made it back into the cruiser and eventually made his way to the ships bridge while DMR an unconscious TWIO back to the Great Fox III. Fox set the ship to detonate right after DMR got out of there, and then Fox began his lengthy run back to his ship. Before he even left the control room, he was confronted by the Chat special forces assassin Blue the Timber Wolf, and nearly was stabbed by Wolf's sarcastic energy daggers several times. Fox finally temporarily locked the command bridge from the outside, forcing Wolf to bypass the security measures in order to escape the exploding cruiser. Both of them escaped the ship as it exploded, without major injuries.
Aftermath
A report showed major casualties to the Team's supporting characters, and an entire wing of the Great Fox III was broken off. However, practically everything from the Sixth Fleet of Trolling was destroyed, so the conflict was hailed a victory.
Trivial
This Battle was the first appearance of "This War is Ours".
Community content is available under
CC-BY-SA
unless otherwise noted.